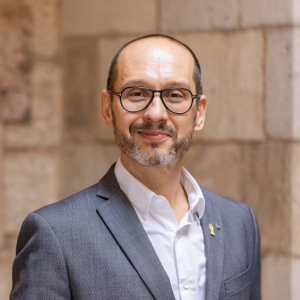 Director of Cooperation for Development of the Generalitat de Catalunya
He holds a degree in Business Administration and Management from ESADE and a diploma from the Community of European Management Schools (CEMS), which he obtained after studying at the École des Hautes Études Commerciales (HEC) in Paris. He also holds a Master's degree in International Relations from the School of Advanced International Studies (SAIS) at John Hopkins University in Washington, DC, with a specialization in conflict management.
Regarding his professional career, he was the deputy director-manager of the Center for Contemporary Culture of Barcelona (CCCB) from 2016 to 2021. On behalf of the CCCB, Desquens was also the vice-president of the Tot Raval foundation, an organization that strives to improve social cohesion, coexistence and the quality of life in the Raval district of Barcelona.
He has worked in development cooperation in conflict zones for ten years.