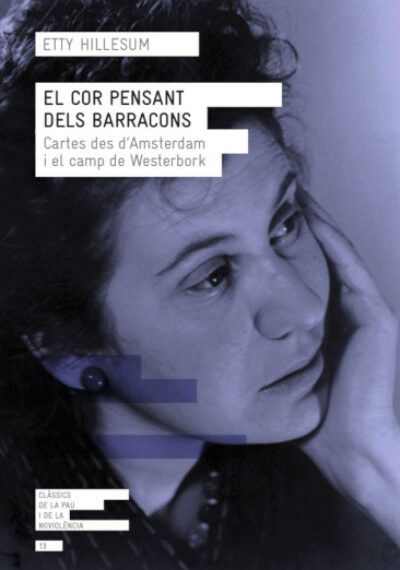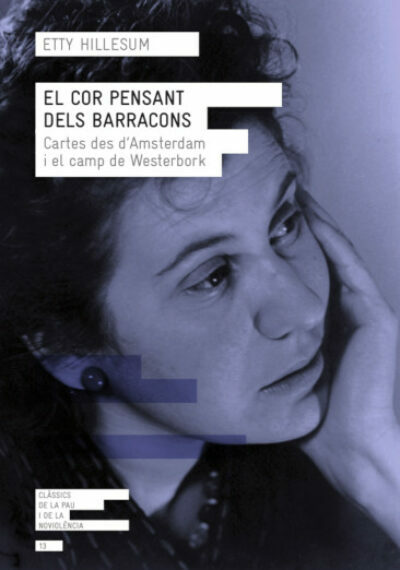 Hillesum, Etty. El cor pensant dels barracons. Cartes des d'Amsterdam i el camp de Westerbork. Barcelona: Institut Català Internacional per la Pau; Angle, 2017. Col·lecció Clàssics de la pau i de la noviolència, 13.
In 1942, during the Nazi occupation of Holland, Etty Hillesum started working for the Jewish Council in Amsterdam. Shortly thereafter, however, as a result of a growing spiritual maturity and radical commitment, she requested to be transferred to Westerbork Transit Camp to assume the destiny of her people.
Amid personal pain and collective tragedy Hillesum was able to discover the beauty of life, seeking refuge in the hope that a new, more just and humane world would soon prevail. Clinging to this hope she died in Auschwitz in 1943. Although her writings weren't published until forty years after her death, Hillesum has become an essential reference and a special figure: she was not a theorist or an activist leader, but a woman with a deep human commitment in the face of an extreme experience.
"This chapter in human history is so sad and shameful that I do not even know how to talk about it. It is shameful to have been present without having been able to prevent it."
About the Author
Etty Hillesum was born on 15 January 1914 in Middleburg (the Netherlands) and raised in Deventer, where her father taught Slavic languages. She studied law and Slavic languages and earned a living teaching Russian, the language of her mother, who had fled Russia because of the 1907 pogrom.
Between 1941 and her death she wrote a diary about the Nazi occupation of Holland and maintained an extensive correspondence. In July 1942 she started working for the Jewish Council of Amsterdam, an organization that acted as a bridge between the Nazi administration and the Jewish population and she volunteered to work as an assistant at Westerbork Transit Camp. As a member of the Council she could enter and leave the camp regularly and she took advantage of this fact to deliver messages, food and medicine to the prison population and to deliver messages to the resistance.
On 7 September 1943 the Hillesum family was sent from Westerbork to Auschwitz. Her parents were killed on arrival; Etty Hillesum died there on 30 November 1943.