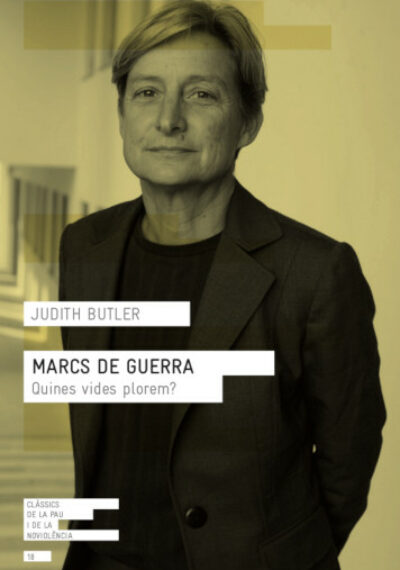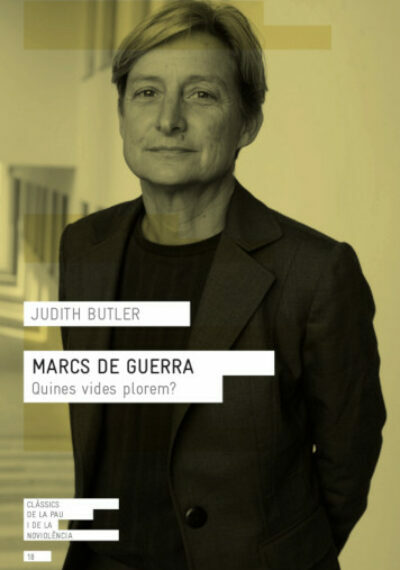 Judith Butler. Marcs de guerra. Quines vides plorem? Barcelona: Institut Català Internacional per la Pau; Angle, 2019. Collection Classics of peace and nonviolence, 18.
Judith Butler, one of the world's most influential intellectuals, explores how, in a context of war, the West determines which lives deserve to be grieved (its own), and which don't (those of enemy forces). She criticizes that the media, having become an active part of the war, portray things in this way, generating hostility without remorse towards countries that do not comply with the Western norm of what is human, and, in a way, dehumanizing the inhabitants of those countries.
Written in the context of the wars of Iraq and Afghanistan, as well as the atrocities committed in the prisons of Guantánamo and Abu Ghraib, Butler calls for a reconceptualization of progressive policies, opposition to illegitimate and arbitrary interventionist military actions, and the establishment of conditions that make violence less viable and life more livable.
Translation by Marina Espasa. Foreword by Lorena Fuster.
About the author
Judith Butler (Cleveland, Ohio, 1956) is a philosopher by training and is currently Maxine Elliot Professor in the Department of Rhetoric, Comparative Literature and Women's Studies at the University of California, Berkeley. From a post-structuralist perspective, Butler has made important contributions in various fields of cultural studies, particularly in feminism, queer theory, political philosophy and ethics, and is considered one of the world's most influential intellectuals. She has received several honorary doctorates from various universities in the United States, Canada and Europe. Among other titles, she is the author of Gender Trouble (L'embolic del gènere, CCCB, 2019); Bodies That Still Matter (Cossos que encara importen, CCCB, 2017); State Violence, War, Resistance (Violència d'estat, guerra, resistència, CCCB, 2010); Vulnerability, Survival (Vulnerabilitat, resistència, CCCB, 2008); and "Imitació i insubordinació de gènere" in El gai saber. Introducció als estudis gais i lèsbics (Llibres de l'Índex, 2000).