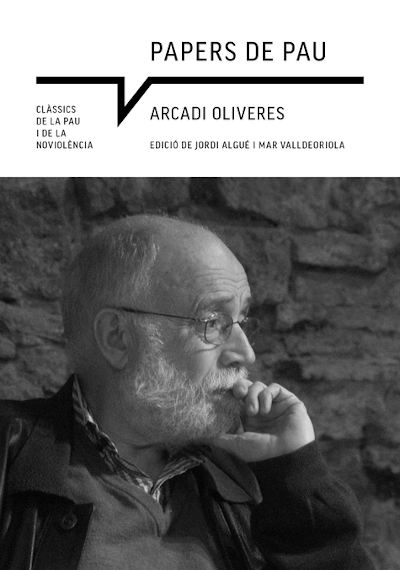 Papers de Pau. Barcelona: Institut Català Internacional per la Pau; Angle editorial, 2022. Clàssics de la pau i la noviolència, 21.
Papers de Pau is a compilation of the pacifist legacy of Arcadi Oliveres (1945-2021), bringing together much of his thought for the construction of a more just and humane world.  A selection of texts, some as yet unpublished, that trace a path from the denunciation of war (its economic causes and arguments, the absurd costs and hidden interests) to the essential culture of peace, including all the possibilities for disarmament, references, peace organizations, and reflections that guide us towards global justice.  Because, as he always pointed out, there is no peace without justice.
This collection reflects, in all its diversity, Oliveres' vast task of dissemination in the field of peace: chapters and prefaces of books, papers, public letters, manifestos, lectures, articles…  And, in addition to published texts (largely impossible to find until now), it includes numerous documents that are part of the collection that was deposited in the National Archive of Catalonia in March 2021 as well as documents from his personal collection.
A comprehensive view of the thought of Arcadi Oliveres, an icon of pacifism and one of its chief promoters in Catalonia.
As the editors point out in the introductory text, "He, the good man, of word and action, critical of the system, of power and of the powerful, committed to social causes but, above all, committed to peace and nonviolence as absolute ideological principles, could not be missing from this series published by ICIP, an institution he had also belonged to during his extensive career."
About Arcadi Oliveres
Arcadi Oliveres (Barcelona, 1945-2021). He was president of Justícia i Pau, president of the International University for Peace Foundation, member of the Catalan Society of Economics, of ATTAC and of the ICIP Board of Governors. He held a PhD in Economics and was a professor of Applied Economics at the Autonomous University of Barcelona (UAB). He was a vocal and active participant in the 15-M Movement. He received the 2017 ICIP Peace in Progress Award and, in 2019, the Gold Medal for Civic Merit of Barcelona. With Angle Editorial, he published: Contra la fam i la guerra, Un altre món, El meu camí cap a la utopia, Aturem la crisi, Diguem prou! and Paraules d'Arcadi (all in several editions). He is the subject of the documentary Mai és tan fosc (2014).
About the editors
Jordi Algué Sala (Súria, 1977). He holds a degree in History and has worked as a documentalist for publishers, in audiovisuals and on museum projects. His latest projects deal with memory, in collaboration with Memorial Democràtic, the Catalan Institute for Women and the Provincial Council of Barcelona. His work includes the documentary Transmissions. Memòries de Lluís Sala (2012) and the exhibition 1932. Tres dies de revolta a Súria (2022). As an archivist, he has worked at the Memorial Democràtic, at the National Archive of Catalonia and at INSPAI (Image Center of the Provincial Council of Girona). He was in charge of Arcadi Oliveres' collection from 2019 to 1 March 2021, when it was deposited in the National Archive.
Mar Valldeoriola Picanyol (Artés, 1974) is a journalist and editor. She has worked as a communications specialist at Col·lectiu Ronda since 2015 and has been a working member of this organization since 2020. She has worked with various media outlets, done corporate communication consulting for groups and small organizations, and has worked in the publishing sector for over thirteen years. She is the editor of several of Arcadi's books including Diguem prou!, Un altre món, La força per canviar les coses and Paraules d'Arcadi. She has also published, together with Bernat Oliveres, the children's story L'Arcadi al país de les Oliveres (BindiBooks, 2022). She is a member of CooperaSec, the social and solidarity economy network of Poble-sec, and of La Base, a cooperative association.  She has also co-produced several audiovisual projects such as the documentary Temps de CanVi(e)s.