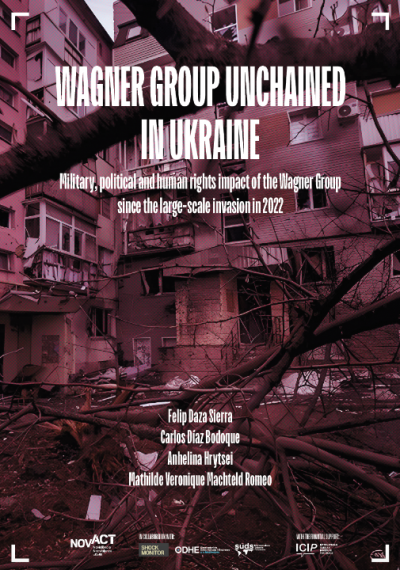 This report, published by NOVACT and with the collaboration of ICIP, Suds, ODHE and Shock Monitor, analyzes the impact of the Wagner mercenary group from three dimensions: military, political and human rights. The publication is the work of Felip Daza Sierra, Carlos Díaz Bodoque, Anhelina Hrytsei and Mathilde Veronique Machteld Romeo. They wrote it based on fieldwork done between March and June 2023.
It has been years since war is no longer just a matter for states; it has become a dark business of military and private security companies. This has become clear in Ukraine, where Wagner's mercenaries, in the service of Vladimir Putin's government, have participated in the murder and torture of civilians. The group's presence in the country has dramatically increased the severity of the conflict, exacerbating mortality, intensifying confrontation, and leading to the fragmentation of armed non-state actors.
The research has the testimonies of 40 experts, institutions and civil society organizations from the academic and human rights fields. The authors also interviewed military personnel involved in operations on the Ukrainian side.
The report was presented at the headquarters of the United Nations in New York on August 1, 2023, as part of the working session of the United Nations Working Group on the use of mercenaries.
Downloads