Sunday 28 November marks the third anniversary of the Commission for the Clarification of Truth, Coexistence and Non-Repetition of Colombia, which has an innovative mandate since this is the first time a truth commission has included the population living outside the country as a subject of participation.
ICIP has played an active role in this undertaking since 2019. It acts as the Technical Secretariat of the Truth Commission in Europe with the objective of facilitating the work with the victims of the Colombian conflict in Europe.
ICIP provides technical and logistical support for the activities organized by the Commission in Europe. It coordinates the working groups established in various European countries (nodes) and has provided methodological support for the process of taking testimony from victims of the Colombian conflict in exile, which has made it possible to document cases and contribute to the clarification of truth, justice and non-repetition of the crimes.
ICIP has facilitated the creation of fifteen nodes in ten European countries, which have become participatory spaces for the sharing of experiences, coexistence and dialogue among victims of the Colombian conflict living in Europe.
Additionally, internodal groups with different thematic focuses – gender, psychosocial accompaniment, recognition of victims, relatives of victims of enforced disappearance, and second and third generations in exile – have been created.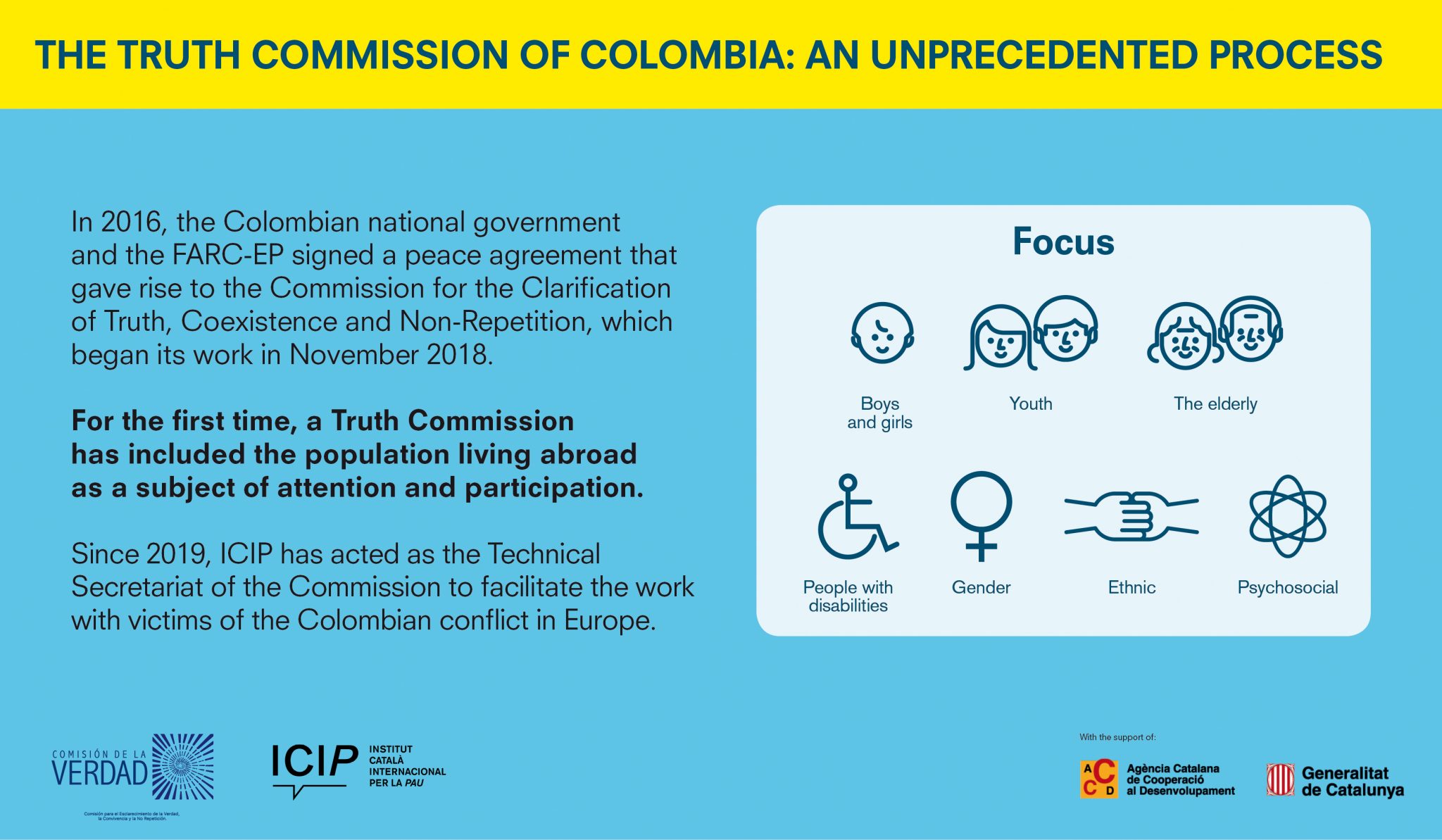 Testimonies: treasures of the collective truth
In this process of working with Colombian exiles, 90 people have been trained as interviewers and recorders, mostly victims and women, and a total of 822 testimonies have been taken in Europe (2,000 worldwide).
The taking of testimonies has made it possible to reveal life stories, silences, impacts, struggles, resilience and contributions to host societies, as well as to promote transformative listening and self-recognition of the victims.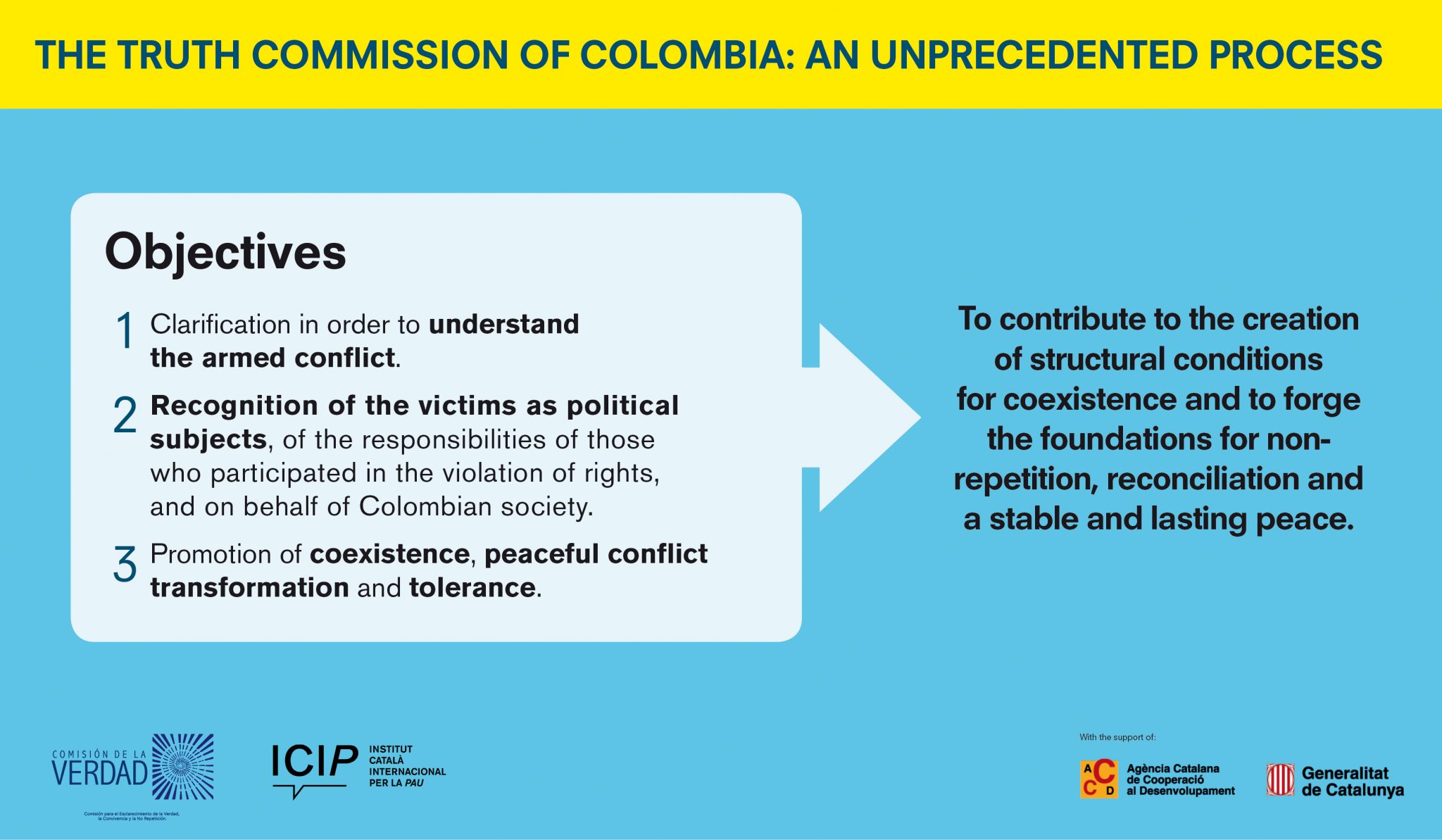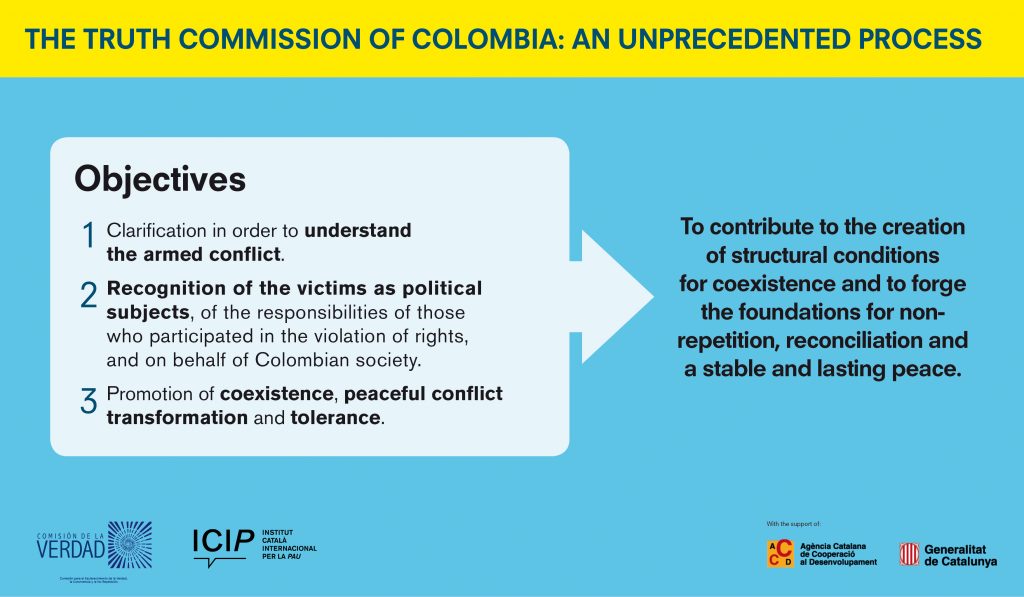 Recognition of the victims
Another issue that ICIP works on as Technical Secretariat of the Commission in Europe is the creation of spaces for the institutional recognition of exiled victims. The process, coordinated by the Catalonia Node of support to the Commission, includes the promotion of institutional declarations and the approval of motions by city councils and social organizations.
To carry out all of these actions, ICIP receives the support of the Catalan Agency for Development Cooperation.
The Truth Commission is part of Colombia's Integral System of Truth, Justice, Reparation and Guarantees of Non-Repetition, along with the Special Jurisdiction for Peace and the Unit for the Search of Disappeared Persons.
The mandate of the Truth Commission has been extended until June 2022, which is when the final report is scheduled to be submitted.
Full details of ICIP's work as Technical Secretariat of the Truth Commission in Europe can be found in the "Memory, Coexistence and Reconciliation" section of the ICIP website.