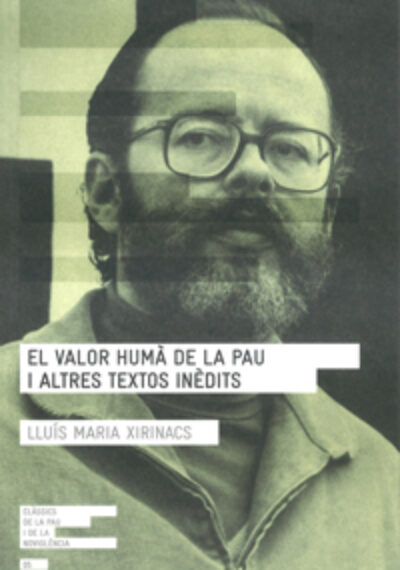 Lluís Maria Xirinacs. El valor humà de la pau i altres textos inèdits. Barcelona: Institut Català Internacional per la Pau; Angle, 2012. Col·lecció Clàssics de la pau i de la noviolència, 5.
The texts deal with the multiple sources of Xirinacs's thought, with reflections on peace, the gospel, Oriental culture, Gandhi's legacy, nonviolence, civil disobedience, revolution, the liberation of Catalonia, and the opening-up to transcendence or mysticism.
This edition of El valor humà de la pau i altres textos inèdits contains an extensive foreword by the honorary president of the UNESCO Center of Catalonia, Fèlix Martí, who reviews the different facets of the Catalan philosopher, and a biographical and bibliographical note of the Randa – Lluís Xirinacs Foundation.
Xirinacs, a key figure in the recent history of Catalonia.
The author
Lluís Maria Xirinacs (Barcelona, 1932 – Ogassa, 2007) was a follower and promoter of Gandhi's nonviolent doctrines. The driving force behind the Assemblea de Catalunya, he was nominated as a candidate for the Nobel Peace Prize. He left the priesthood and obtained a doctorate in philosophy. Throughout his entire life, his struggle for freedom was tireless: imprisonment, demonstrations, hunger strikes… He was the author of many articles, conferences, and courses.