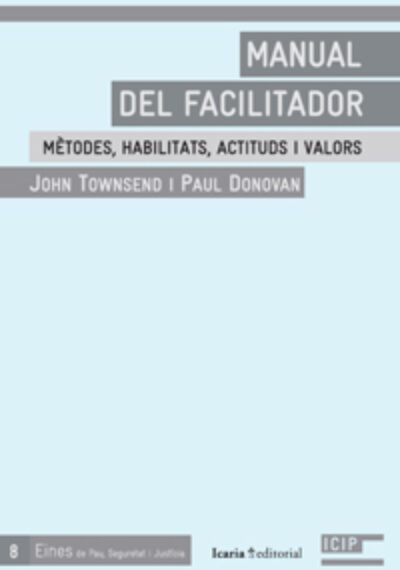 John Townsend i Paul Donovan. Manual del facilitador. Mètodes, habilitats, actituds i valors. Barcelona: Institut Català Internacional per la Pau; Icària, 2012.
To facilitate literally means to make things easier. It is the facilitator's job to help people make decisions and obtain results. They must, therefore, be capable of working in conditions of uncertainty and must be conscious of the fact that things don't always work out the way they imagined or the way the hoped for.
Facilitator's Pocketbook is a small collection of tricks, tools and techniques for all of those who are faced with the challenge of bringing out the best in people during meetings, team-building sessions, work groups, problem resolutions groups, conflict resolution and training sessions.
About the authors
John Townsend is the founder and director of the Master Trainer Institute. He has extensive experience as a consulter in the international sphere and as director of Human Resources in various companies. He has published a great number of professional guides and regularly participates in seminars and conferences on leadership.
Paul Donovan is Registrar and Program director at the Irish Management Institute in Dublin, where he is responsible for training sessions and the professional development programs conducted by human resources. Among his professional interests is research on the evaluation of professional training.