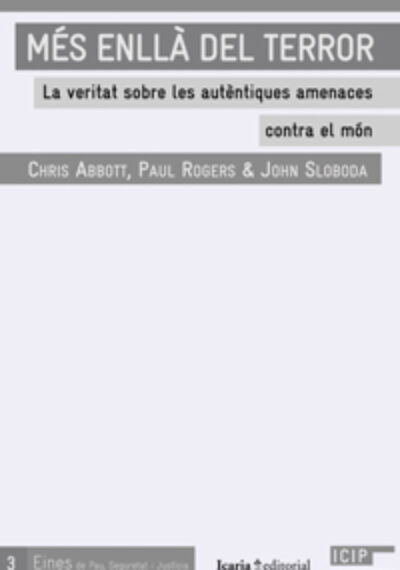 Chris Abbott, Paul Rogers, John Sloboda. Més enllà del terror: la veritat sobre les autèntiques amenaces contra el nostre món. Institut Català Internacional per la Pau; Icària, 2011. Col·lecció Eines de Pau, Seguretat i Justícia, 3.
Is international terrorism really the greatest existent threat to global security? The issues that constitute modern day threats are deeply interconnected: international terrorism and armed conflict cannot be treated separately from contemporary problems of extreme poverty or environmental degradation. This book points to and describes the real threats that our planet and global population must be prepared to face: climate change, competition for resources, the growing marginalization of the majority of the globe, and worldwide militarization.
The book offers the reader a number of options as courses for appropriate action in confronting these issues and has the objective of making a contribution to the construction of a safer future for both our planet and ourselves.
About the authors
Chris Abbott is a Researcher and the Program Coordinator for Oxford Research Group (ORG).
Paul Rogers is Professor of Peace Studies at Bradford University and a Global Security Consultant at ORG
John Sloboda is the Executive Director of ORG and is a Psychology Professor at Keele University.