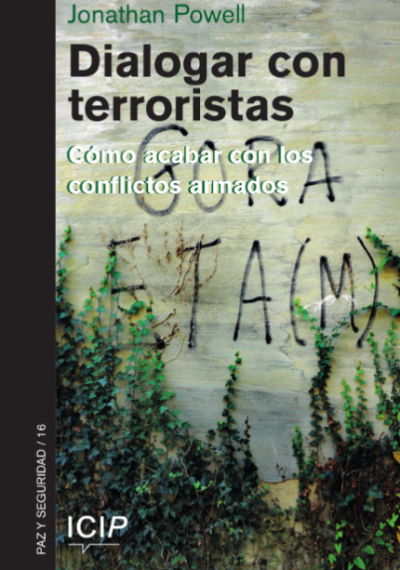 Powell, Jonathan.  Dialogar con terroristas.  Barcelona: International Catalan Institute for Peace, 2021.
Jonathan Powell has spent nearly two decades mediating between governments and terrorist organizations, with a special dedication to the conflict in Northern Ireland, where he was instrumental in negotiating peace.
Drawing on lessons learned in different contexts, in Talking with terrorists, Powell argues that any conflict, however bloody, ancient or difficult it may be, can be solved with dialogue, patience and political leadership. Therefore, he defends that, although dialogue will always be difficult and morally risky, it is necessary.
The book examines the experiences of government representatives and insurgent groups in different peace talks, from Northern Ireland to the Basque Country, the Middle East, South Africa, Indonesia, Colombia, El Salvador and Sri Lanka, intending to establish the reasons for success or failure in each context.  And, after twenty years of war against Islamic terrorism, Powell continues to defend the need for Western governments to change their approach and open talks with the Taliban to find a political solution to the violence.
About the author
Jonathan Powell is the CEO and founder of Inter Mediate, an organization based in London for the negotiation and mediation of conflicts.  He has participated in several negotiations between governments and insurgent groups in Europe and Asia and has worked closely with the Centre for Humanitarian Dialogue.
Powell was Chief of Staff to Tony Blair from 1997 to 2007 and became a key player in the peace negotiations in Northern Ireland.  In 2008, he suggested publicly that Western governments should open talks with the Taliban, Hamas and al-Qaeda, just as they have done with "traditional" terrorist organizations, an approach he advocates in Talking with terrorists.