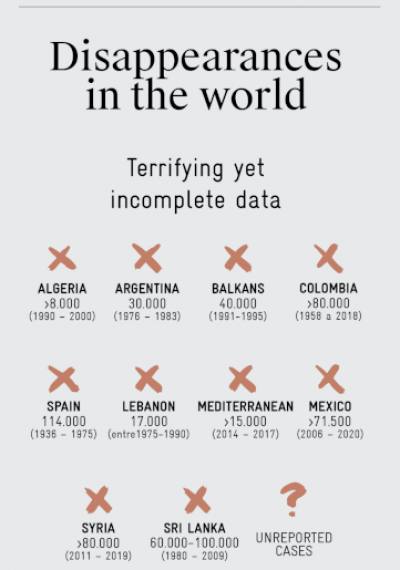 As a peacebuilding institution, ICIP has repeatedly dealt with realities associated with the phenomenon of enforced and involuntary disappearances, particularly in countries such as Mexico or Colombia. Considered one of the most serious human rights violations, enforced disappearance poses a huge challenge to peacebuilding processes, both in contexts of post-conflict transitions and in areas with high levels of state and criminal violence. In these contexts the need for truth, justice and reparation are essential conditions for coexistence and reconciliation. This process also provides guarantees that the population can live with the certainty that such events will not take place again in the future.
The number of enforced disappearances around the world is appalling. It is estimated that more than 60,000 people have disappeared in Mexico between 2006 and 2019; over 80,000 in Syria since 2011; between 60,000 and 100,000 in Sri Lanka from the late 1980s to 2009; about 30,000 during the Videla dictatorship in Argentina; and, in Spain, it is estimated that about 114,000 people disappeared during the Civil War and the Franco regime.
Behind all these figures and other realities beyond this dismal tally, there are people with a name and a story, families with the painful anguish of not knowing if their loved ones are dead or alive, if they are cold or hungry, if some day they will return, or where they have been buried. Beyond individual suffering, the practice of enforced disappearance imposes fear and mistrust among communities and, in many cases, it even distorts or erodes the social fabric.
These infographics aim to summarise the impacts of enforced disappearances around the world through a peacebuilding view.
Downloads