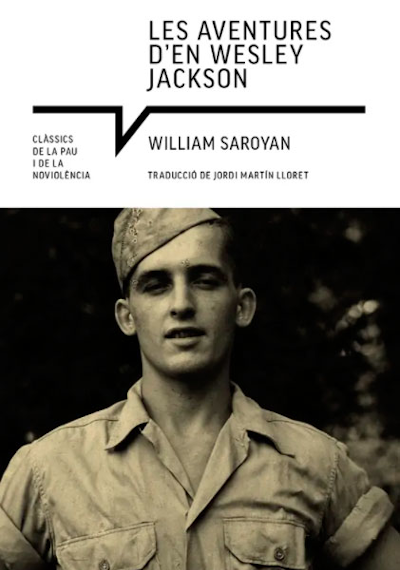 William Saroyan. Les aventures d'en Wesley Jackson. Barcelona: International Catalan Institute for Peace; Angle, 2021. Classics of Peace and Nonviolence, 20.
William Saroyan, one of the great writers of the 20th century, wrote this novel on behalf of the United States Army. As a soldier, the writer had been mobilized to London and one of the military officers there believed that, in exchange for a furlough, Saroyan could write a story that would favor the relations between Americans and the British and that, at the same time, would offer a kindly view of the life of the troops during the Second World War. But what ended up happening was this: The novel was read and then promptly rejected, and Saroyan was left without his promised furlough and narrowly escaped a court-martial.
Profoundly anti-war and not at all complacent, the novel recounts the stint in the army of young Wesley Jackson, a naïve and optimistic nineteen-year-old. During this period, he will get to know the best and the worst of life, its most tragic and amusing facets, and will come to the conclusion that only love and human fraternity can redeem us.
Hailed by Kurt Vonnegut, Arthur Miller and Stephen Fry, William Saroyan is one of the most prolific and underrated writers in the United States. Between the satire of Jaroslav Hašek's The Good Soldier Švejk and a somewhat candid version of Salinger's The Catcher in the Rye, with the naïve and fascinated attitude of John Fante's novels… The Adventures of Wesley Jackson is a book of athletic style and picaresque structure that exudes wonder and truth.
Translated by Jordi Martín Lloret, this is the first time The Adventures of Wesley Jackson has been translated into Catalan.
About the author
William Saroyan was born in 1908 in Fresno, the center of the Armenian community in California where many of his works take place. The son of Armenian immigrants who fled the Ottoman Empire, Saroyan wrote short stories, novels and plays that made him extraordinarily popular.
Considered by Kurt Vonnegut as "the first and best of all American minimalists," Saroyan won the Pulitzer Prize for the play The Time of Your Life (although he turned down the award because, he said, he resented "wealth patronizing art"). He also won an Academy Award for Best Story for The Human Comedy. His works are based more on the impressionistic description of characters and environments than on intrigue or an elaborate plot; moreover, they always convey an optimistic state of mind and a deep faith in humanity. When he died, half of his ashes were buried in California and the remainder in Armenia.